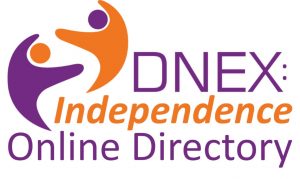 Disability North have been supporting disabled people, carers, older people and healthcare professionals through the DNEX brand and exhibition for over 25 years.
The way individuals search for information and guidance has changed radically and to reflect these trends we are launching the DNEX: Independence Directory. Disability North will host the online directory on its website, in doing so it offers a unique tool for organisations to showcase your products to  disabled people, older people and healthcare professionals and anyone with an interest in disability.
The Independence Directory will be an online directory with a difference, all products and services listed will feature specially commissioned videos. We are currently looking for a limited number of organisations to support us with the pilot of the Independence Directory. Not only does the directory provide your organisation with an online presence in a new marketplace, it also associates your company with a trusted and respected charity with a huge client base
In addition to the directory Disability North will also be undertaking a number of promotional activities including; product promotions, demonstration days and managed one to one demonstrations, all as part of the Independence Directory package.
To find out more please contact Kevin Wright at kevinwright@disabilitynorth.org.uk