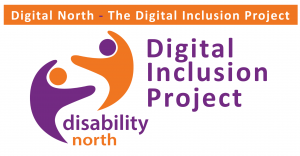 Are you an older and/or disabled person?
Unable to access the Internet or computers?
Want to be able to improve your computer skills, so that you can use the Internet to shop, socialise, pay bills, apply for jobs, make benefit claims, etc?
Then 'Digital North' is for you!
We are here to help older and disabled people get on-line and make the most of new technology. We can offer informal one-to-one or group training, support and advice, help with Internet queries and problems, etc.
Drop in times: Tuesdays 1-4pm, Thursdays 10-Noon
And for more information, contact:
Beatrix Groves-McDaniel
Disability North, The Dene Centre, Castle Farm Road, Gosforth, Newcastle upon Tyne NE3 1PH
Tel: 0191 284 0480 Text: 18001 0191 284 0480
Email: beatrixgrovesmcdaniel@disabilitynorth.org.uk