After qualifying as a State Registered Nurse in 1977 I worked extensively within the NHS in the UK as well as SW Kenya.I was the Regional Nurse Specialist for those affected by Neural Tube Defects working with a National Charity specialising in this field.Due to the onset of MS full-time work was replaced with the opportunity to be involved more within the voluntary sector. I have been involved with Disability North since 1985 and was elected to the Board in 1992 and held the office of Vice Chair and Chair during the early 2000s.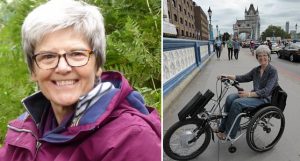 Ill-health brought a period of absence in 2010 before I re-joined the Board in 2013. It is a privilege to once again be elected Chair of this amazing Organisation.
My interests include creative writing, swimming, meeting with Friends and drinking good coffee as well as being part of the Service User Team at Teesside University actively involved with the Nursing Studies BSc (Hons) programme.