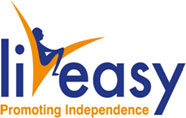 Liveasy – aids for daily living, mobility aids and access. 
We supply a range of popular mobility and disability aids with the goal to provide customers with an outstanding product range combined with exceptional value for money – accompanied by reliable, efficient and friendly service.
At Liveasy we understand that every customer is important and each has their own unique and specific needs. We pride ourselves on the quality and affordability of our range of mobility and disability aids, as independent living is essential for everyone. If you have any queries/concerns or would like to order over the phone just call us on 0191 213 0251 and one of our helpful staff will advise.
We recommend phoning our branches before calling in to the showroom. This is because we provide a vast range of equipment and unfortunately, we can't hold all the stock in our warehouse. To avoid disappointment, please ring us prior to your visit to ensure we have your product in stock.
Over the years we have built long standing accounts supplying organisations and charities such as:
Newcastle Primary Care Trust, Freeman Hospital, Rake Lane hospital, Neuro Pathways, Marie Curie, Gatehead Council, Newcastle Council and the Soldiers, Sailors Airmen and Families Association (SSAFA).
All of our experienced staff have spent many years in the mobility industry and are more than qualified to find the correct product to improve your quality of life.
PLEASE NOTE: Livesay is not currently accepting visitors due to the new lockdown. To contact Liveasy please ring or email using the details below:
Tel: 0191 213 0251
Fax: 0191 213 0910
E-mail: info@liveasy.co.uk