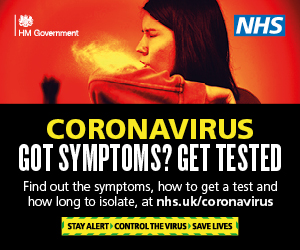 Disability North understand that this may be an anxious time for people in receipt of health & social care. We are also very aware of the impact the Coronavirus pandemic is having on our service-users and the wider community. In response, we have compiled the following relevant information and useful links which will be updated on a regular basis:
In addition, Disability North's Welfare Benefits and Direct Payment Service Teams continue to provide information and appointments over the phone. If you have any concerns please feel free to get in touch using the usual contact details.
For media inquiries regarding the impact Coronavirus is having on those in receipt of health and social care, please contact our CEO Dr Victoria Armstrong.
The government has produced easy read information on their test and trace system, this shows you the symptoms, what you should do, how to get a test, and how to book a coronavirus vaccination if you are eligible.
EXEMPTION CARDS: 
If you have an age, health or disability reason to not wear a face-covering you are not required to provide written evidence to prove this. However, if you would be more comfortable having something to show in the supermarket etc. you can print off an exemption card from the government website here:  https://www.gov.uk/government/publications/face-coverings-when-to-wear-one-and-how-to-make-your-own
Again, this is a personal choice and is not necessary by law.