This advertisement is not just about wiping an arse!
Wage: £11.25 per hour then will rise to £12.50 upon successful completion of probationary period.
Weekend / Weekday work available. 12-hour shifts. Shifts to be discussed with applicant. Potential for shift flexibility in the future.
Location: Birtley, County Durham Area.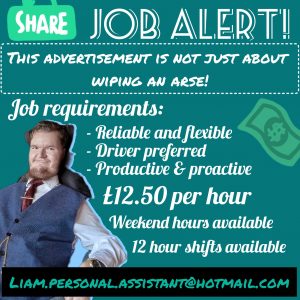 I've increasingly began to notice people refusing to apply for this job advert due to not being able to "wipe an arse". Have you tried wiping an arse? It's a fairly easy process that requires smooth hand motion. You wipe your own arse, don't you? Please don't tell me you still get your family to help you with that, even I've surpassed that stage!
On a more serious note, you do not need any previous experience in providing support or care. I deem care and providing physical assistance as two different entities, as there is huge amount of associated stigma with the word "care". This job involves providing me with physical assistance to empower me to live my best life. I see it like renting out your body to complete my daily tasks, just like you would rent out a hire car to get you from destination A to B.
Who I look for:
Someone who likes to talk about history, politics, philosophy, science, psychology, sociology, football, music (all genres) and UFC.
No experience required, as I can teach you how I like things to be completed.
Someone who is willing to help me out to the best of their ability and hopefully we'll develop a friendship from that.
Have a sense of humour. I'm not an individual who gets easily offended.
Likes deep conversations about the world we live in.
There is an opening to work as part of my small team of personal assistants. The main criteria of the role is that we get on, but you should be able to work on your own initiative when I am busy, to maintain organisation and cleanliness of my house whilst assisting me to optimize my productivity in many areas of my life. The role essentially involves working with me and helping me succeed at my long-term goals. I am a Theoretical Physics student with a love of all thing's uni-life.
I like going for coffee, going to music/orchestra events, attending political and science conferences, productivity and optimisation, career driven, football, UFC, going to museums, visiting heritage sites and the occasional night out. If you like any of the things above, I may just have the ideal job for you. These are not limited to.
Now for the small print – the post involves you basically being my hands, as I cannot physically do things for myself due to having Spinal Muscular Atrophy (type 2). I will need help with cooking, eating, getting dressed, personalised support, driving my car (not essential) and anything else that I require. It would be ideal if you are flexible, able to cover other PA's holidays and absences and available to travel if necessary; however not essential, as long as you can commit to a shift pattern. If this sounds like a job you would be interested in, I would love to hear from you!
It is the job of a personal assistant to enable me to carry out personal, domestic, and social tasks. The personal assistant will work under my direction to meet my requirements for physical assistance. They should always ask first what I require, continuously listening and acting upon my requests and under my directions.
The personal assistant should be able to handle the physical tasks of hoisting, handling, pushing, pulling, and bending. The personal assistant does not need to be physically strong to do the job well. However, good general health and stamina are important.
Closing date: 10th January 2024
At the time of starting their employment, the successful candidate must have permission to work in the U.K.