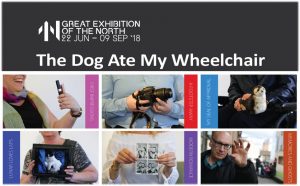 The Dog Ate My Wheelchair is a unique multi-screen video installation offering glimpses into the world of a group of north east people who identify as 'disabled' or 'different' as a result of mental and/or physical health impairments. Disability North have been working with established artist, Neil Armstrong, to bring together disabled people from the North East to converse about their everyday lives and the places in the region which inspire them.
The project began with participants talking about objects which mean something to them in their everyday life, as seen in three video pieces facing outwards from Newcastle Central Library, Newcastle Haymarket, and Clayton Street. We later explored 'place' as a theme for discussion, and a longer film (with audio) sees three of the participants visiting their 'significant places' in the North East, including Tynemouth, Jesmond Dene and Gateshead. This can be found inside Newcastle Central Library.
We hope the piece will stimulate conversation and provide a moment of contemplation for all who encounter it.
Please do come along to discuss the project with the organisers and participants at Newcastle Central Library 4pm – 5pm on Monday 13th August 2018 in the Bewick Hall on level 2.
email: victoriaarmstrong@disabilitynorth.org.uk
tel: 0191 284 0480