Disability North has been supporting disabled and older people in the North of England for over three decades, providing expert advice and support services to promote independent living and tackle social exclusion.
Fundraising, sponsorship and volunteering provide valuable contributions to running our much needed services.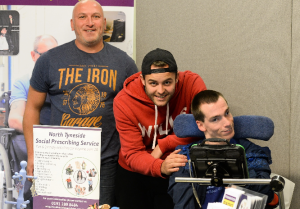 What our service users say about us:

"The information we received was invaluable.  We both now have mobility scooters & are able to get out into the fresh air."
"Reassuring service. Knowing I can get advice as & when I need it."
"The service and compassion we received was invaluable. We were treated with decency and utmost respect. We left the office feeling hopeful."
"If we had not had your help, my family would have suffered financially which would have created a lot of extra difficulties with my son.  Thank you so much."
You can also watch our recent video that describes what we do here.
If you would like to promote positive action and equality for disabled people across the region, then there are a number of ways to support Disability North:
We are always happy to hear from you if you have more ideas for fundraising activities and events, if you need help with fundraising or if you want to find out more information. Please email our fundraising team at: kevinwright@disabilitynorth.org.uk.