As Covid restrictions ease, the Dene Centre is open by appointment only. Our key services continue to operate and if you would like assistance please contact us using our details below.
Our shop Liveasy are still open and continuing to operate by appointment only. To arrange an appointment, ring them on 0191 213 0251 or email kirsty@liveasy.co.uk
Thank you for your continued support and co-operation during this difficult time.
Covid Compliant Assurance Scheme
Disability North is accredited on the Covid Compliant Assurance Scheme to reassure our service-users that we have in place all reasonable measures and controls to safeguard visitors and staff.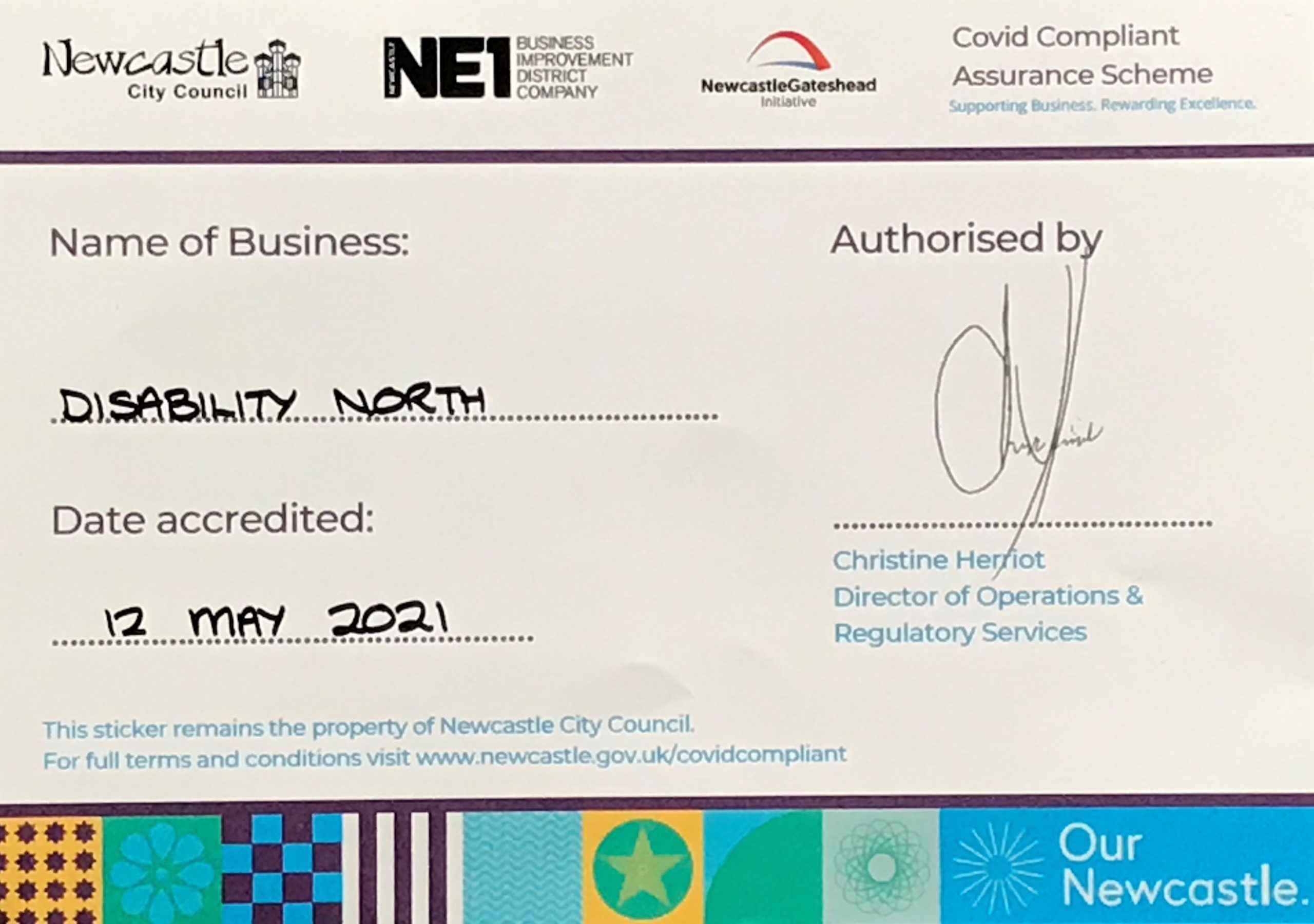 By Post:
Disability North,
The Dene Centre,
Castle Farm Road,
Newcastle upon Tyne
NE3 1PH
Telephone – 0191 2840480
Fax – 0191 2130910
Email – reception@disabilitynorth.org.uk
Disability North E-Newsletter
If you wish to receive news from Disability North in the future, please sign up to our mailing list.
Please note: Our e-newsletter service brings you the latest information about events and activities relating to Disability North. We will only use your contact information to inform you via e-mail communications of our activities. We will not share your information with any third parties. If you wish to unsubscribe you can do so by clicking on the unsubscribe link at the end of any e-newsletter you have received from us to your email address.
To sign up to receive our newsletter please click on the following link: SIGN UP .
You can stop receiving our newsletter whenever you want by emailing us on at the following: reception@disabilitynorth.org.uk