Are you looking for a spacious, affordable and accessible venue to hold your training sessions, meetings or conferences? 
Disability North has a range of rooms available for hire again from July 2020. 
Please click the following link for our Health and Safety guidelines for Covid-19
Download our Room Booking Form here
Rooms at Disability North can be used for meetings, workshops, seminars, conferences and training sessions.
Equipment for moving and handling training sessions is also available.
All rooms are accessible for disabled people. For full details of accessibility at The Dene Centre, please click here.
All hire rates include the hire and use of our IT and audio-visual services as well as delegate tea and coffee
Meeting, Seminar and Training Rooms
Community Room
Our community room is a large, accessible, affordable venue suitable for workshops, conferences and large meetings.  Hire costs include use of LCD TV screen for showing presentations, laptop, microphone, pull-down-projector-screen with projector, flipcharts, Wi-Fi access, tea, and coffee
The room is easily accessible by a through-floor lift and 3 stairways each fitted with stair lifts. There is also an external mobility ramp and hearing loop. The room has a maximum capacity of 50 delegates.
Half Day (up to 4 hours): £50.00      Full Day (up to 8 hours): £100.00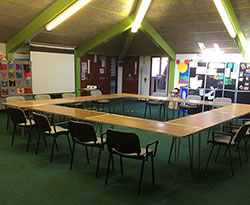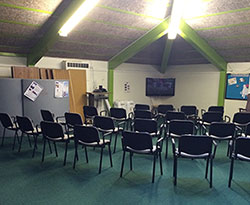 Equipment Demonstration Areas
Disability North has an extensive range of independent living demonstration areas for hire, including bedroom, kitchen, bathroom and toilet areas. Each contain a variety of independent living equipment, and the bedroom and toilet areas are equipped with hoists, wash-dry facilities and changing tables.
There are also two straight and one curved stairlift, as well as a through-floor lift. Members of the public can book an appointment with one of our staff to use the wheelchair scales free of charge.
We have an outdoor multi-terrain mobility garden in which service users can experience using mobility equipment such as walkers and wheelchairs on surfaces such as cobbles, tarmac, pavement and concrete, all with fitted slopes and inclines.
If you are a healthcare professional or moving & handling training provider and you would like to book our demonstration areas to deliver your own training, please contact Disability North.
Half Day (up to 4 hours): £40.00 per room
Full Day (up to 8 hours): £60.00 per room
Our centre has its own on-site accessible car parking but is easily accessible by public transport services.
If you are interested in hiring any of our rooms or demonstration areas at competitive rates please contact the Events Team by email or telephone 0191 2840480.