Direct Payment and Personal Health Budget Support, Advice and Guidance
Disability North is a user-led independent charity providing advice and guidance to employers for over 15 years. We are delighted to announce that as of 1st May 2020 we are extending our offer to all local councils in the North of England, CCGs and Service Users who wish to exercise their use of choice and control and choose their own Direct Payment Support.
In addition to our offer of Direct Payment/PHB Support we have an excellent payroll service committed to person-centred customer service. Disability North have also been offering this service for over 15 years. We can ensure that you receive a joined-up service between the set-up of your package right through to the first payment of your PAs, and with our ongoing support options we will continue to support you for as long as you require.
Disability North recognizes that employers may need varying levels of support. We have used our extensive experience in delivering support and have built our packages with this in mind (click here for our menu of services). If you know what support you require please complete this registration form. To view our comparison table of support please click here. If you require something that does not appear to be listed or you would like a more bespoke package please do get in touch to discuss your requirements. Our experienced Community Care and Personalisation Manager, Vici Richardson, will be happy to assist you and can be contacted on vicirichardson@disabilitynorth.org.uk or by telephone on 0191 2840480 or 07933834666.
Our support will provide everything from advice on record keeping to guidance with employing quality support staff; we can also assist in the recruitment of Personal Assistants, provide employer training, along with budget management support. Employing a Personal Assistant can feel daunting at first but we will ensure you have the advice, guidance and tools to be a confident employer.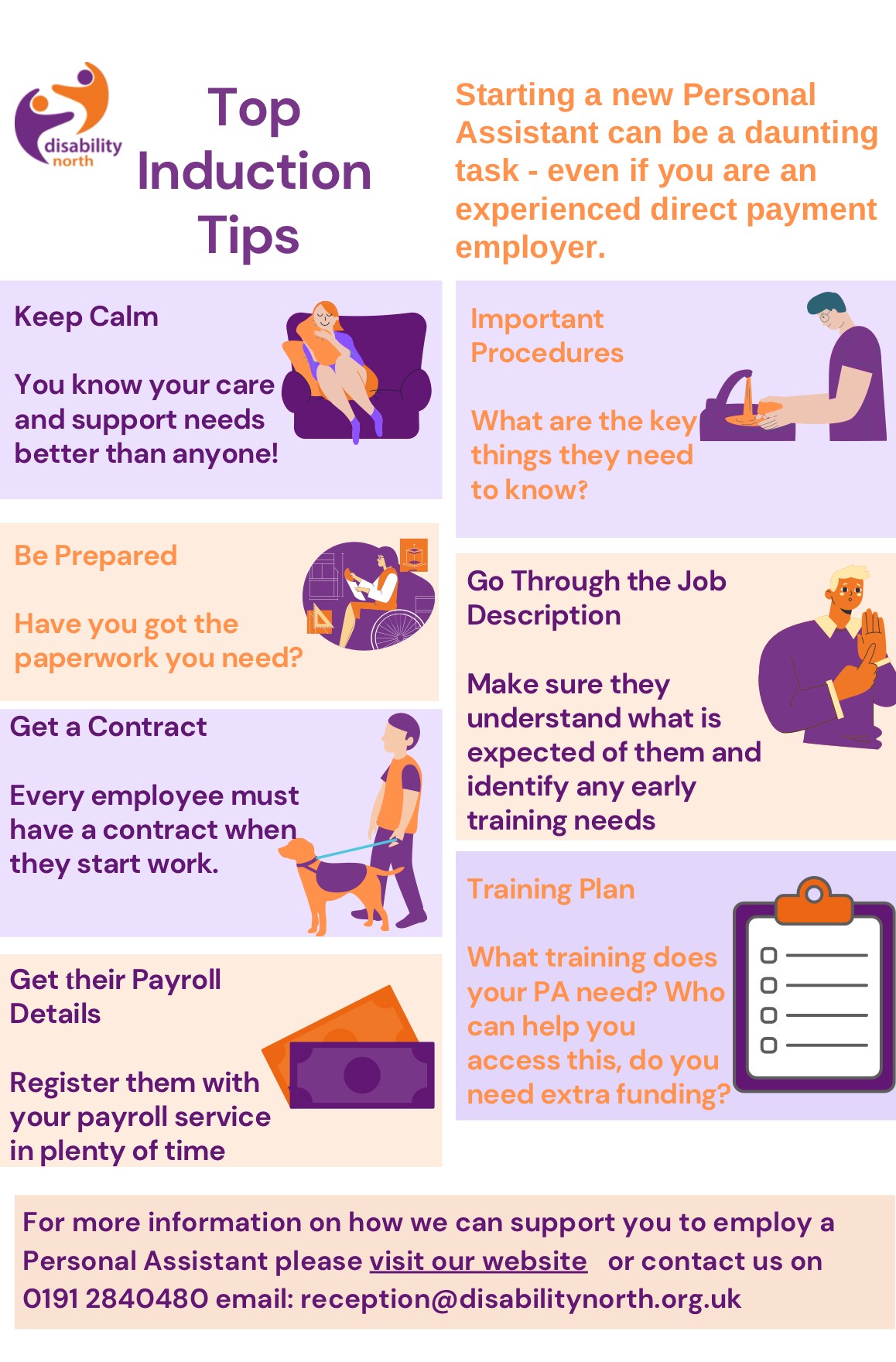 Service User Feedback
"I needed to employ a new PA and was given excellent support throughout the whole process."
"I was very happy with the support I was helped with everything when I had to dismiss a PA due to medical reasons. It was very stressful, but they helped me out every step of the way. I couldn't have done it without them"
"My husband's needs were continually changing, and the staff were very sensitive and responsive to the situation."
Video from RUILS on the role of a Personal Assistant:
How a Personal Budget works:
If you have been assessed as being eligible for Social Care services you should be offered a Personal Budget to pay for your assessed Social Care needs. Instead of having to use traditional services, for example, the council contracting with an agency on your behalf, you can now choose how you meet your needs. A support plan will be written up between you and your Social Worker, which outlines how you will use your Personal Budget. You can choose how you receive your Personal Budget:
Virtual Budget – This is where the council continues to commission services outlined in your support plan and pay for them on your behalf.
Direct Payment – This is where you receive your budget direct in 4 weekly amounts over the year, you are then responsible for using that money as set out in your support plan and keeping proper financial records.
Indirect Payment – This is where someone manages the budget on your behalf, this could be a family member or an outside agency. They manage the money and pay for the services as outlined in your support plan and they keep the financial records.
How can I access a Direct Payment?
Direct Payments are available to everybody who has eligible care needs including:
Disabled adults over 16 years
Parents of disabled children
Disabled parents of a child
Carers
People with learning disabilities
People using mental health services
The first thing to do is to contact your local authority or council and ask about an assessment from your local social services. You can find your nearest local authority or council here:
For assistance with requesting an assessment, please contact Vici Richardson using the contact details above.
Personal Health Budgets:
Did you know that since October 2014 you have the right to request a Personal Budget to meet your assessed health care needs?
A Personal Health Budget is an amount of money allocated to support your healthcare and well-being needs. This isn't extra or new money, but a different way of spending health funding to meet your needs. A Personal Health Budget can give people with long-term health conditions and disabilities more choice and control over the money spent on meeting their health and well-being needs. A Personal Health Budget should have person-centred care and support planning at its heart. A good support plan will help you to identify your health and well-being goals and will set out how the budget will be spent to enable you to keep healthy and safe.
For more information visit https://www.nhs.uk/using-the-nhs/help-with-health-costs/what-is-a-personal-health-budget/ and feel free to contact us for more information.