Latest News Article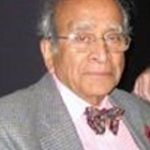 Husband, Father, Grandfather.
Consultant Neurosurgeon.
Disability North Trustee
Friend…..
1926 -2018
Ram Kalbag was instrumental in the vision and the inception of Disability North as we know it today.
In 1985 The Dene Centre opened its doors and offered support, information and advice to any and everyone affected by disability or age-related impairment. Those doors remain open to this day.
Ram was a founder member of the Board of Trustees and remained a Trustee until 2013 – almost thirty years of service to a Charity he supported and cause he held true to – the promotion of inclusion, independence and choice for disabled people, their families and carers throughout the North East of England.
Ram attended Board Meetings and other events at Disability North regularly and enthusiastically. He was incredibly knowledgeable not only as a renowned Neurosurgeon, but he made a point of ensuring that the projects and services Disability North engaged in brought the maximum benefit to those Disability North sought to support and help.
Ram supported Staff Members in any way he could, as well as his fellow Trustees. I will always be immensely grateful for the encouragement and support he gave to me during my term as Chair of the Board.
He was more than a fellow Trustee, he was my Friend.
When Ram resigned from the Board of Trustees there was a 'space' none could fill. And yet his involvement and support continued through his generosity and kindness – and interest in all Disability North continued to strive to do.
When we heard of Ram's death on 20th October 2018 aged 92, we as an Organisation realised once again the enormity of the legacy he left us in being with us from the beginning and how much we owe him and those he stood alongside in the early 1980s to make their vision our reality.
'Looks like you've reached the end….'
I saw this quote and remembered some of the moving tributes said of Ram at his funeral.
People such a Ram never really do reach the end – their memory lives on and the impact of their lives on others remains…..always.
Thank you Ram.
With gratitude – Sandra Wheatley. Trustee.
Disability North invite you to our Annual General Meeting (AGM) and light lunch on Monday 3rd December from 10am to 1pm at MEA House in Newcastle. This year we are holding our AGM on the same date as the UN's "International Day of persons with disabilities".
Our theme for the event is independence and we look forward to welcoming you to join in the discussion and listen to news about initiatives taking place across the region which will impact on the lives of disabled people. Including the launch of Disability North's online Independence Directory, hearing from our research partner at Open Lab on peer support and self-directed support, enjoying some of the films we made for the Great Exhibition of the North, along with discussion about the future direction of Disability North.
The full agenda for the day will be published in the coming months, but we would hate for you to miss out. You can book your place in advance by clicking on the following link: Disability North AGM.
This free to attend three half day course will cover the following areas;
• Overview of what Social Care is.
• Introduction to the main models of Disability.
• What Personalisation is, how it has become part of Social Care Policy and where the role of a Personal Assistant fits in.
• What the role of a Personal Assistant is, the skills and values that Direct Payment employers want and an understanding of 'Person Centred Care'.
• Equality and Diversity in relation to disability.
• An understanding of safeguarding, signs of abuse and what to do if abuse is suspected.
• Health and Safety from an employee's perspective.
• Some of the issues to consider when applying for Personal Assistant Roles and once in the role of Personal Assistant
To find out more and book your place please click on the following link: Introducing the role of a Personal Assistant in Health and Social Care 
Introducing the role of a Personal Assistant in Health and Social Care