Simon McKeown is an artist, Reader in the MIMA School of Art at Teesside University and the largest national collector of invalid carriages which were three wheeled and often blue. In 2018, he secured funding from the National Lottery Heritage Fund to research the hidden history of the Invalid Carriage and their users. Now, he will be sharing some of the photographic images and videos which he and his team of volunteers have uncovered. The exhibition will take place at Disability North, Gosforth, a charity which provides information, advice and support for disabled people and their families.
Disability North's Chief Executive, Victoria Armstrong, is looking forward to the exhibition being hosted at the Dene Centre. She says, "Simon's exhibition provides a great insight into invalid carriages and their associated narratives which form an important part of the social history of disabled people in England."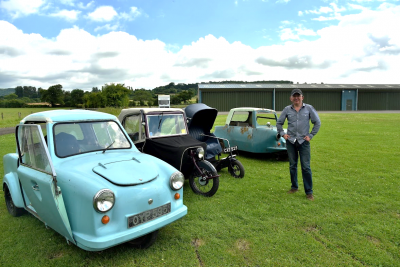 Some of the images on display come from Simon's family photograph album. His grandfather was an invalid carriage user, from the primitive hand cranked versions of the 1940's to the motorised vehicles of the 1970's. There is a lot of fun, humour and love in those photographs, along with views of several invalid carriages. It is hoped that this exhibition will help tell the less obvious story of these vehicles and their users, not just one of disability but families and a different kind of normality, one provided to families up and down the country by the NHS. In the 1970's these were a common sight in all our towns and cities with over 25,000 on the road.
Simon will also be giving an eclectic talk about the exhibition and Invalid Carriages at 3pm on 17 October 2019 at Disability North. He's also asking for people to bring their family stories related to the vehicles, as well as photographs or ephemera. He would love to see or hear them on the day and wants to interview users and their families.
Simon's exhibition, The Carrying of Passengers is Forbidden, runs from 17 September 2019 to 1 November 2019, at Disability North, The Dene Centre, Castle Farm Road, Newcastle upon Tyne, NE3 1PH. Please contact Disability North on tel. no. 0191 2840480 in advance to discuss access.
Alternatively, come and meet the team on 17 October 2019, for a talk by Simon McKeown. Bring your own photographs and stories, too!
If you are not in Newcastle, keep an eye out for Simon's other exhibitions and events in the North East, including an historic look at Invalid Carriages at Preston Park Museum and Grounds, Stockton-on-Tees.
Please visit www.invalidcarriageregister.org for more information.