Disability North Golf Day 2018
We are delighted to announce that the Disability North Golf Day 2018 wil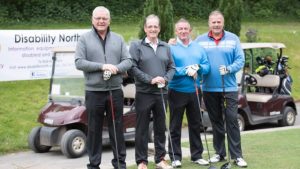 l take place at Hexham Golf Club on Friday 18th May 2018.
Hexham is a traditional, parkland golf course with stunning views over the meeting of the North and South Tyne. It has regularly been listed as one of the best in the country.
We are looking for teams of four to compete in an 18-hole golf game. All participants will enjoy a breakfast roll, BBQ, hospitality and refreshments at a half-way house, breath-taking views of the Tyne Valley and the opportunity to win some fantastic prizes.
The entry fee is £275 for a team of four and you can book your place by e-mailing kevinwright@disabilitynorth.org.uk or by using the PayPal button below.
Please book early to avoid disappointment, it would be wonderful to see you this year.
Disability North is a free Independent Living Service which provides life-changing support and help to over 8,500 disabled people, older adults and their families in the North East of England and Cumbria each year.