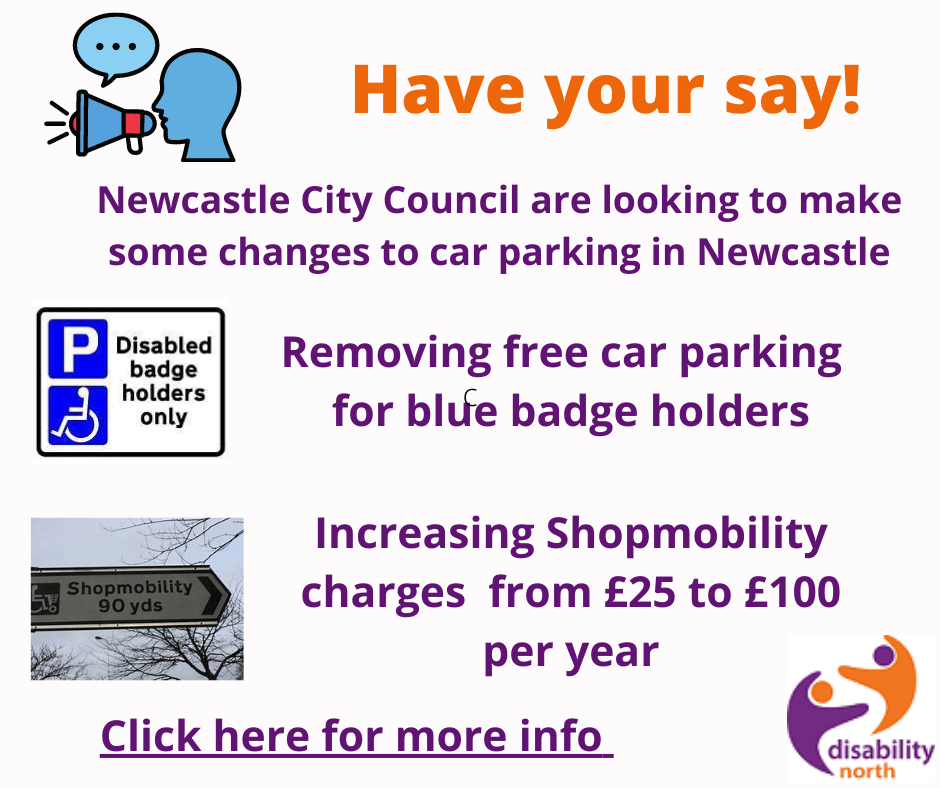 https://www.newcastle.gov.uk/offstreetparkingplacesorder2020
Have your say!
Newcastle City Council are currently consulting on their car parking places order.
The most significant changes affecting disabled people are
• The removal of the concessionary free parking for blue badge holders in Council operated car parks.
• The charge for Shopmobility scheme rising from £25 to £100
We know that the majority of Disabled people in Newcastle are reliant solely on income from benefits, disability benefits have not seen a rise in payment throughout COVID.
Those who access care and support are also being asked to pay more towards the cost of their care and support.
We believe this increase in costs will add further financial pressure and we may see further isolation.
Car parking charges are staying the same so the increase in charges will only affect disabled people.
You can have your say by putting your objection in writing by 23 November 2020, quoting reference GH/P50/1101, to Newcastle Parking Services, P.O. Box 2BL, Newcastle upon Tyne, NE99 2BL,
or e-mail traffic.notices2@newcastle.gov.uk.
Any objection or representation MUST be made in writing and where an objection is made, it must state the grounds of the objection.
Alternatively, you can leave a comment on this post or email vicirichardson@disabilitynorth.org.uk and we will collate the responses and respond as an organisation.
Friday 13th November 2020