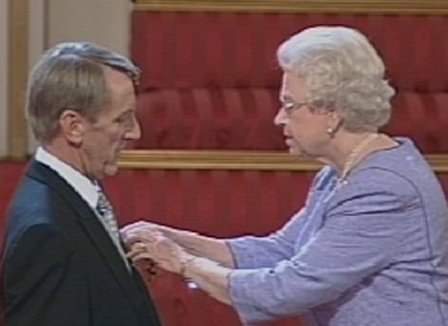 Last week the daughter of the late Donald Dempsey OBE contacted Disability North to let us know that her Father had sadly passed away at the end of August.
Donald was one of the original founders of The Newcastle Council for the Disabled, now known as Disability North.
When talking about the 50th anniversary of the founding of the Newcastle Council for the Disabled Donald described it as
"One of the North of England's pioneering charities for people with disabilities has reached a milestone in its history."
The Newcastle Council for the Disabled, known as Disability North since 1995, was formed on the 25 September 1972. It quickly became a leading provider for disabled people throughout the North of England establishing one of the country's first aids/equipment centres, and one of the first specialist advice and information services.
Recalling the history of the organisation, Donald M Dempsey OBE- the founding Secretary, and former Director of Newcastle Council for the Disabled said:
"It is particularly rewarding to be able to record the 50th anniversary of the formation of Newcastle Council for the Disabled as it shows the foresight and commitment of its founding members, staff and volunteers. Under the Chairmanship of the late Dr Graham Grant MBE, the increasing provision which followed its establishment proved to be of immense benefit to tens of thousands of people."
In the formative years of the 1970s and 1980s, this progress set the foundations for the further developments to follow.
Donald Dempsey added that "aspirations were high, as demonstrated by the successes which ensued" one of which was the building of the Dene Centre, where almost 40 years later Disability North is still carrying out the work that The Newcastle Council for the Disabled began 52 years ago.
Vici Richardson Chief Executive Officer of Disability North said:
"We are deeply saddened to hear of the passing of Donald and would like to extend our warmest sympathies to his family and friends.
We know that Donald and the team around him were fundamental to the work that is continuing to this day. They were instrumental in securing the first purpose-built centre of excellence for the northern region and with a major charity appeal, alongside the support of Newcastle City Council, Newcastle Health Authority (Teaching), Northern Regional Health Authority, Northumberland County Council and Northumberland Health Authority, the construction of the Dene Centre was commissioned and officially opened in 1985.
There is a saying about standing on the shoulders of giants and Disability North would not be where it is today without the good foundations it has been built on and we would like to recognise Donald and the many others who have played their part in founding, leading, and working with the organisation over the last 50 years."